American Sign Language (ASL)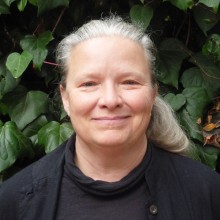 Pam Johnson's experience with American Sign Language has deep personal and professional roots. As the child of deaf parents, Pam's native language is American Sign Language and her indigenous culture is American Deaf culture. Pam, a graduate of Augsburg College, has extensive experience advocating for deaf individuals as a social worker, teaching ASL to children and adults, counseling and teaching deaf children, and interpreting spoken English for the deaf.
Pam, is a vocalist as well. Pam was a founding member of Half-N-Half, a national sign/musical ASL performance trio. She continues to perform in the jazz musical genre.
The mother of two Walden graduates, now in their thirties, Pam's Walden roots run deeply. Pam teaches ASL in the Lower Group and Lower Middle Group.
---